Dr. Robi Ludwig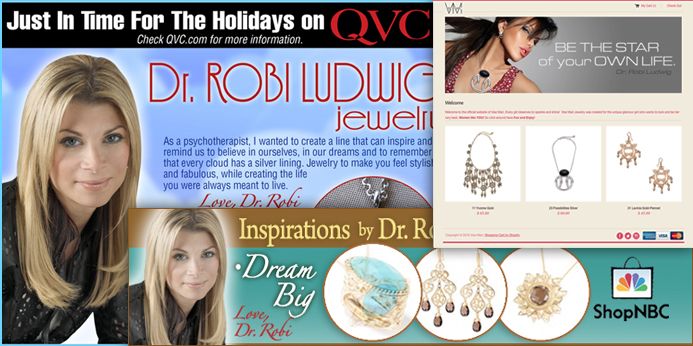 Dr. Robi Ludwig is a nationally known psychotherapist, author, award-winning reporter, and contributor to Today Show, CNN, Headline News, Fox News among many other networks. She also has an inspirational jewelry line.
For this project she was launching a new pendant that was going to be featured on QVC as well as Shop NBC. She needed an attractive email blast, promotional handout, web banners for industry sites, and a merchant website for ordering and inventory. The theme of the pendant was "Dream Big". This theme was carried throughout the design by using softness of a cloud background and a styled font for the name.
Banner ads were posted on myworkbutterfly.com, that was linked back to her website with details on the pendant and how to order. The marketing promotion was eye-catching and effective, and gave Dr. Robi a professional appearance and accolades from colleagues in her industry.
Marketing
Marketing your business through many advertising mediums takes creative vision and focus. In today's world, it takes much more than just making an ad and presenting it on the web for all to see. Providing the correct means to sell a product or service, that satisfies the customer needs to their satisfaction, is the challenge. Getting a return on investment (ROI) and bottom-line results, are always the end goals for any project.
Networking – go where your market is
Direct marketing – sales brochures, flyers
Advertising – print media, directories
Training videos – to increase awareness
Write articles – blogs and linked in
Direct/personal selling – use of marketing tools
Publicity/press releases – web based
Trade shows – large scale graphics
Web site design – internet marketing
Make your website a powerful selling tool today!